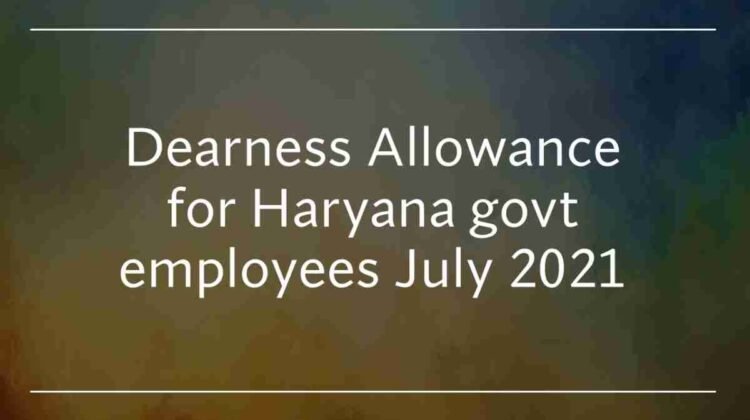 Dearness Allowance to Haryana Government employees w.e.f. 1st July, 2021
No.4/3/2016-5FR/17937
From
The Additional Chief Secretary to Govt of Haryana.
Finance Department
To

1. All Head of Departments in Haryana
2. The Registrar (General), Punjab and Haryana High Court Chandigarh
3. All Commissioners of Divisions – Hisar, Ambala, Karnal, Faridabad, Rohtak, Gurgram,
4. All Deputy Commissioners in Haryana.
5. All Sub Divisional Officers (Civil) in Haryana.
Dated 26th July,2021
Subject:- Revised rates of Dearness Allowance to Haryana Government employees w.e.f. 1st July, 2021.

I have been directed to invite your kind attention towards Finance Department's earlier instructions No.4/1/2009-5FR(FD)/8101 dated 6th July, 2020 vide which instalments of Dearness Allowance to Haryana Government employees due from 01.01.2020, 01.07.2020 and 01.01.2021, were frozen and to say that Governor of Haryana is pleased to decide that the Dearness Allowance payable to Haryana Government employees shall be enhanced from the existing rate of 17% to 28% of the basic pay with effect from 1st July, 2021
2. The increase subsumes the additional instalments arising on 01.01.2020, 01.07.2020 and 01.01.2021. The rate of Dearness Allowance for the period from 01.01.2020 till 30.06.2021 shall remain at 17%. The payment on account of Dearness Allowance involving fractions of 50 paise and above may be rounded to the next higher rupee and the fractions of less than 50 paise may be ignored. The provisions contained in para 3,4,5, & 7 in FD's instructions No.4/3/2016-5FR/35222 dated 25th November, 2016 shall continue to be applicable while regulating Dearness Allowance under these instructions.
3. Copy of these orders may be downloaded from the official website of the Finance Department i.e. www.finhry.gov.in.
Deputy SecretarySecretary Finance
for Additional Chief Secretary to Govt. Haryana,
Finance Department