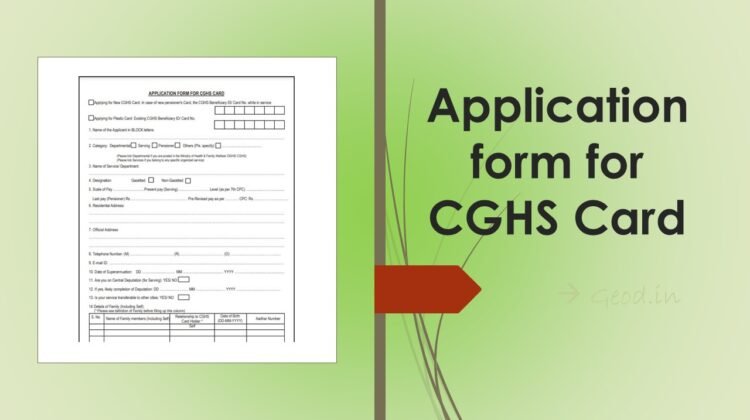 CGHS New Plastic Card Application Form PDF Download 
Importance of CGHS Card
1. All the CGHS beneficiaries and their dependents are being provided with photo ID plastic cards individually with unique beneficiary ID number which need to be produced at each service point to avail the facilities.
2. Safe custody of the CGHS Cards is the responsibility of the beneficiary and in case of loss of the card beneficiary is required to inform the police and CGHS authorities.
3. Duplicate CGHS card can be obtained against lost card by applying for the same to the concerned Additional Director along with a copy of FIR and will be charged Rs. 50/- Procedure to get a CGHS Card Eligible serving employees/pensioners have to apply in the prescribed form (available on CGHS web portal www.cghs.nic.in and website www.cghs.gov.in and also in the wellness centres) The form should be completely filled up with individual photographs pasted as specified in the form.
Following documents need to be attached:
In case of serving employee:-
1. Proof of residence.
2. Proof of stay of dependents.
3. Proof of age of son.
4. In case of differently abled dependent son above 25 years, disability certificate from competent authority as specified.
In case of pensioners:-
In addition to 1 to 4 above:
1. Surrender certificate of CGHS Card (only if CGHS Card was issued during Service Period).
2. Attested copies of PPO/Provisional PPO/Last Pay Certificate (in case PPO is not readily available immediately after retirement.)
3. Demand Draft in the name of "PAO CGHS New Delhi".
The amount of Demand Draft will be for contribution due for one year if the card is to be made for yearly renewal basis and for 10 years if whole life card is required. Read More Details Click here CGHS Hand Book
Application form for PDF Download