7th Pay Commission – Scheme of Revision of Pay of Teachers and Equivalent Cadres
Scheme of revision of pay of teachers and equivalent cadres in universities and colleges following the revision of pay scales of Central Government employees on the recommendations of the 7th Central Pay Commission (CPC).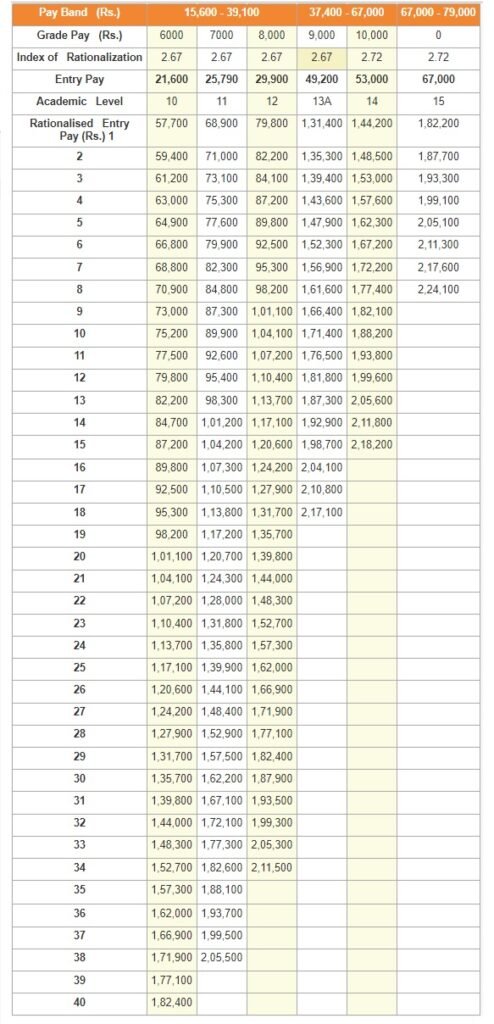 1. Designation
There shall be only three designations in respect of teachers in universities and colleges, namely, Assistant Professors, Associate Professors and Professors. Also, there shall be no change in the present designations in respect of Library and Physical Education Personnel at various levels.
2. Revised Pay for teachers and equivalent positions:
(i) Pay Fixation method
The revised pay structure for different categories of teachers and equivalent positions is based on the following: Read More:-
Pay Band (Rs.)
15,600 – 39,100
37,400 – 67,000
67,000 – 79,000
Grade Pay (Rs.)
6000
7000
8,000
9,000
10,000
0
Index of Rationalization
2.67
2.67
2.67
2.67
2.72
2.72
Entry Pay
21,600
25,790
29,900
49,200
53,000
67,000
Academic Level
10
11
12
13A
14
15
Rationalised Entry
Pay (Rs.) 1
57,700
68,900
79,800
1,31,400
1,44,200
1,82,200
2
59,400
71,000
82,200
1,35,300
1,48,500
1,87,700
3
61,200
73,100
84,100
1,39,400
1,53,000
1,93,300
4
63,000
75,300
87,200
1,43,600
1,57,600
1,99,100
5
64,900
77,600
89,800
1,47,900
1,62,300
2,05,100
6
66,800
79,900
92,500
1,52,300
1,67,200
2,11,300
7
68,800
82,300
95,300
1,56,900
1,72,200
2,17,600
8
70,900
84,800
98,200
1,61,600
1,77,400
2,24,100
9
73,000
87,300
1,01,100
1,66,400
1,82,100
10
75,200
89,900
1,04,100
1,71,400
1,88,200
11
77,500
92,600
1,07,200
1,76,500
1,93,800
12
79,800
95,400
1,10,400
1,81,800
1,99,600
13
82,200
98,300
1,13,700
1,87,300
2,05,600
14
84,700
1,01,200
1,17,100
1,92,900
2,11,800
15
87,200
1,04,200
1,20,600
1,98,700
2,18,200
16
89,800
1,07,300
1,24,200
2,04,100
17
92,500
1,10,500
1,27,900
2,10,800
18
95,300
1,13,800
1,31,700
2,17,100
19
98,200
1,17,200
1,35,700
20
1,01,100
1,20,700
1,39,800
21
1,04,100
1,24,300
1,44,000
22
1,07,200
1,28,000
1,48,300
23
1,10,400
1,31,800
1,52,700
24
1,13,700
1,35,800
1,57,300
25
1,17,100
1,39,900
1,62,000
26
1,20,600
1,44,100
1,66,900
27
1,24,200
1,48,400
1,71,900
28
1,27,900
1,52,900
1,77,100
29
1,31,700
1,57,500
1,82,400
30
1,35,700
1,62,200
1,87,900
31
1,39,800
1,67,100
1,93,500
32
1,44,000
1,72,100
1,99,300
33
1,48,300
1,77,300
2,05,300
34
1,52,700
1,82,600
2,11,500
35
1,57,300
1,88,100
36
1,62,000
1,93,700
37
1,66,900
1,99,500
38
1,71,900
2,05,500
39
1,77,100
40
1,82,400
Pay Matrix Table for Teachers Download PDF Here