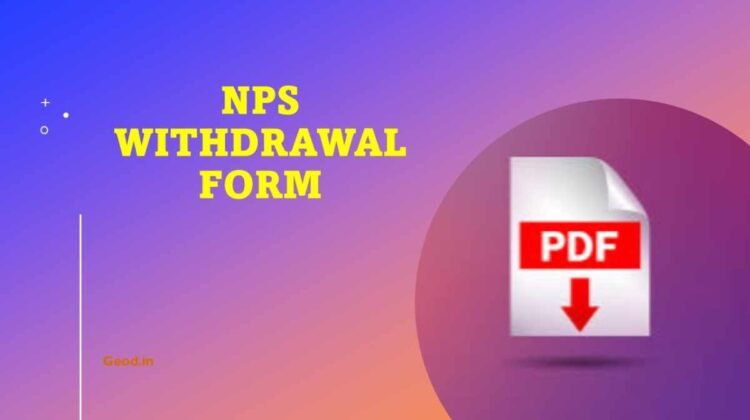 Partial Withdrawal of NPS Form PDF Download
NPS withdrawal form and self-declaration form pdf download link end of this post.
Ease of Partial withdrawal of NPS Subscribers
Presently, all NPS Subscribers who have been under the NPS for three years or more, are permitted to avail non-refundable partial withdrawal from their own contributions to the extent of 25% up to three times for specified reasons in PFRDA Regulations 2015. Read more…
Reasons of Partial Withdrawal
i. Higher education of his/her children
ii. Marriage of his/her children
iii. Purchase or construction of residential house or flat
iv. Treatment of specified illness such as Cancer, Kidney failure, Primary Pulmonary Arterial Hypertension, Multiple Sclerosis, Major organ transplant, Coronary Artery Bypass Graft, Aorta Graft Surgery, Heart Valve Surgery, Stroke, Myocardial Infarction, Coma, Total Blindness, Covid 19, Paralysis and Accident of serious/life threatening.
v. For meeting expenses of skill development/re-skilling or any other self-development activities.
vi. For establishing his/her own venture or any start-up.
vii. To meet medical and incidental expenses arising out of the disability or incapacitation suffered by the subscriber
Partial withdrawal through Self – Declaration
a. Subscribers can submit the partial withdrawal request online/off-line to CRA/Nodal Office/PoPs, as the case may be.
b. For online withdrawal-Login to CRA system using login credentials.
c. Select Partial Withdrawal and the eligible amount of partial withdrawal displayed. D. Select the reasons for partial withdrawal in drop down option.
d. Furnish Self Declaration: Submit the request for partial withdrawal and the amount thus withdrawn shall be utilized for the purpose of declared reasons as specified by PFRDA exit regulations. I am fully responsible and accountable to spend the amount thus withdrawn for the stated reason".
e. Check Bank Account Number which is non-editable mode.
f. Submit the request and authorize by using OTPs/ e Sign.
g. Email and Mobile number need to be updated to authenticate using OTPs in case of online mode.
h. CRA executes partial withdrawal post " Instant Bank Account Verification" by penny drop.
i. The amount will be received by the Subscriber on T+4th working day. T being the date of online submission by Subscriber / authorization by Nodal Office/POP (in offline mode)
j. No supporting documents are to be submitted in offline or online mode.
NPS Withdrawal Form Download PDF
NPS Withdrawal Self Declaration Form Download PDF