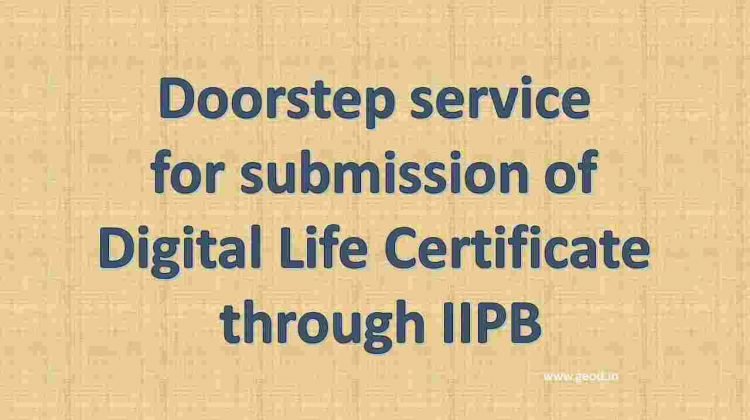 Doorstep service for submission of DLC through IIPB
No.55(20)/2019-P&PW(H)-6212
Government of India
Ministry of Personnel, PG & Pensions
Department of Pension & Pensioners' Welfare
8th Floor, Janpath Bhavan,
Janpath, New Delhi – 110 001
Dated: 18th November,2020
OFFICE MEMORANDUM
Sub: Doorstep service for submission of DLC through IIPB
The India Post Payments Bank of the D/o Posts, in coordination with Jeevan Pramaan NIC team, Ministry of Electronics & Information Technology (MeitY) has lauched the "Doorstep DLC service" for pensioners. The DLC from Home initiative of the D/o Pension & Pensioners' Welfare had initially been started with the assistance of registered Pensioners' Associations in several cities, which went door-to-door to obtain Digital Life Certificate from Pensioners. To expand this service across the country, D/o Posts huge network of postmen & Gramin Dak Sevaks has been put to use. IPPB has customized its software with the Jeevan Pramaan Digital service and is now utilizing the huge national network of more than 1,36,000 access points in post offices and more than 1,89,000 postmen & Gramin Dak Sevaks, who have been equipped with smart phones and biometric devices in providing doorstep service for submission of Digital Life Certificate in every part of the country.
2. In order to avail the aforementioned "Doorstep DLC Service" through IPPB, pensioners can request their nearest post office or make a request through PostInfo App or through the website http://ccc.cept.gov.in/covid/request.aspx. It is a chargeable service and shall be available to all Central Government Pensioners across the country. The process to avail "Doorstep DLC service" of DLC through IPPB can be viewed on ippbonline.com or on YouTube, or Facebook page of D/o pension & Pensioners Welfare.
3. The administrative Divisions of all Ministries/Department and attached/subordinate offices are requested to bring the above details about doorstep service for submission of Digital Life Certificate across the country through India Post Payments Bank to the notice of all their retirees.
(Rajesh Kumar)
Under Secretary to the Government of India
Ph:23310108