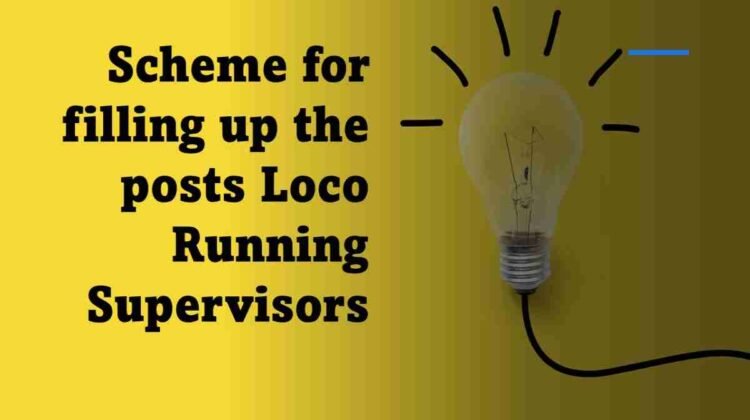 Scheme for filling up the posts Loco Running Supervisors (Chief Loco Inspectors and Chief Crew Controllers/Chief Power Controllers/Chief Traction Controllers)
GOVERNMENT OF INDIA
MINISTRY OF RAILWAYS
(Railway Board)
RBE No.80/2021
New Delhi, dt. 01.11.2021
No.E(P&A)II-2009/RS-17(Vol.II)
The General Managers (P)/CAOs,
All Indian Railways
and Production Units etc.
Sub: Scheme for filling up the posts Loco Running Supervisors (Chief Loco Inspectors and Chief Crew Controllers/Chief Power Controllers/Chief Traction Controllers)
Attention is invited to para-3 and 4 of Board's letter dated 03.07.2019 (RBE No.108/2019) on the above subject wherein the eligibility for filling up the post of CLIs and CLIs (CCC, CPRC & CTLC) and provisions for selection to the said posts are laid down. Pursuant to issue of Board's instructions dt. 03.07.2019 references have been received from few Zonal Railways seeking some clarifications.
2. The issues raised by the Zonal Railways have been considered by the Board and decided as under:-
(a) The term '10 years of actual service as Loco Pilot' contained in para-3 of Board's letter dt.03.07.2019 (RBE No.108/2019) means 10 years of service as Loco Pilot including duties rendered as CC/PRC/TLC for the period of tenure in accordance with. extant guidelines issued by the Board vide Board's letter dated 23.07.2004( RBE No.162/2004).
(b) Since the selection to the post of CLIs have characteristics of general selection, instructions issued in pursuance to Hon'ble Supreme Court's order dt. 15.03.1996 in the matter of M.Ramjayram. Vs. General Manager. South Central Railway & Ors., vide Board's letter No.E(NG)I-2008/PM7/4 SLP, dated 19.06.2009 (RBE No.113/2009) relating to selection procedure for promotion to General Selection post may be followed in the case of selection for CLIs post as well.
3. These instructions shall be applicable from the date of issue of these orders.
4. Please acknowledge the receipt.
(N.P.Singh)
Joint Director, Estt.(P&A)
Railway Board
Tele No.47845124