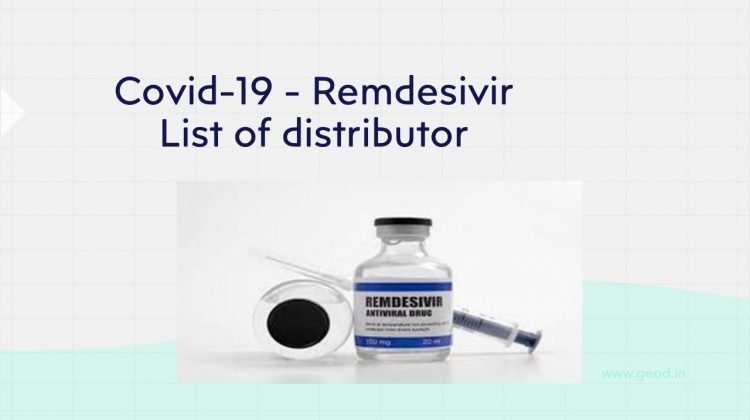 Remdesivir medicine distributor name state vise list.
Seven Indian companies are producing Injection Remdesivir under voluntary licensing agreement with M/s. Gilead Sciences, USA. They have an installed capacity of about 38.80 lakh units per month.
Keeping in mind the sudden surge in demand in the country for Remdesivir Injection required for Covid-19 therapy, the manufacturing capacity of domestic Remdesivir manufacturers has been ramped up. All support is being extended to manufacturers by the government in this endeavour. The production capacity is being ramped up from current level of 38 lakh vials per month to 74 lakh vials per month, and 20 additional manufacturing sites have been approved.
Distributor Name State wise List
Andra Pradesh
| | |
| --- | --- |
| State | Distributor Name |
| Andra Pradesh | Aurobindo Drugs |
| Andra Pradesh | Balaji Medical Corporation |
| Andra Pradesh | Aurobindo Drugs (Gnt) |
| Andra Pradesh | Kranthi Medical Agencies |
| Andra Pradesh | Paramount Medical Agencies |
| Andra Pradesh | Aurobindo Drugs (Vsp) |
| Andra Pradesh | Vardhman Specialities |
| Andra Pradesh | Kalyani Health Plus |
| Andra Pradesh | Alaric Enterprises |
Assam
| | |
| --- | --- |
| State | Distributor Name |
| Assam | Modern Pharma Company |
| Assam | A.S. Pharma Private Limited (T) |
| Assam | Apollo Pharmaceuticals |
Bihar
| | |
| --- | --- |
| State | Distributor Name |
| Bihar | K. V D. Agencies |
| Bihar | King Enterprise Patna |
| Bihar | Newpuran Medical Agency |
| Bihar | Kesar Vaccine Distributors (Onco) |
| Bihar | Shree Salasar Balaji Agency |
Chandigarh
| | |
| --- | --- |
| State | Distributor Name |
| Chandigarh | Guru Nanak Medicos (P) Ltd. |
| Chandigarh | M/S. Halcyon Pharmaceuticals |
| Chandigarh | A S Pharma Pvt. Ltd., Chandigarh |
| Chandigarh | Family Chemists |
Chhaattisgarh
| | |
| --- | --- |
| State | Distributor Name |
| Chhaattisgarh | Jain Medical Stores Raipur |
| Chhaattisgarh | Kumar Medicose |
| Chhaattisgarh | Laxmi Medical Agency |
| Chhaattisgarh | Melaram & Brothers |
| Chhaattisgarh | Pramod Medical Agency |
| Chhaattisgarh | Rathi Medical Agencies |
| Chhaattisgarh | Sadhana Medico Traders |
| Chhaattisgarh | Shyam & Sons |
| Chhaattisgarh | United Medical Agency |
| Chhaattisgarh | Jai Medical Agencies |
| Chhaattisgarh | Khatri Medical And Surgicals |
| Chhaattisgarh | Khatri Medical And Surgicals(Apollo |
| Chhaattisgarh | Dinesh Medical Stores Pvt.. Ltd |
| Chhaattisgarh | Sanjeevani Pharma Distributors Pvt. |
| Chhaattisgarh | Suyash Agencies |
Dadra and Nagar Hav
| | |
| --- | --- |
| State | Distributor Name |
| Dadra and Nagar Hav | Life Line Medical Agency |
Delhi
| | |
| --- | --- |
| State | Distributor Name |
| Delhi | British Medideals |
| Delhi | Gautam Enterprises |
| Delhi | Lucky Pharmaceuticals Pvt. Ltd. |
| Delhi | Sunnyco |
| Delhi | Aar Aar Healthcare |
| Delhi | Aar Aar Healthcare (South) |
| Delhi | Novacare Healthcare Solutions Pvt. |
| Delhi | Pharma Cube |
| Delhi | A. S. Pharma Pvt. Ltd ( Max ) |
| Delhi | Sanjeevani Enterprises (East) Dlh |
| Delhi | Impex Healthcare Pvt. Ltd. |
| Delhi | Aark Pharamaceuticals |
| Delhi | A S Pharma Pvt Ltd |
| Delhi | R K Pharma, Yusuf Sarai, Delhi |
| Delhi | Narula Associates |
| Delhi | Lucky Pharmaceuticals, Apollo |
| Delhi | Narang Biotec Pvt. Ltd |
| Delhi | Novacare Healthcare Solutions Delhi |
Goa
| | |
| --- | --- |
| State | Distributor Name |
| Goa | E C Agencies |
| Goa | Sambari Enterprises |
Gujarat
| | |
| --- | --- |
| State | Distributor Name |
| Gujarat | Angi Agency |
| Gujarat | A.B.C. Distributors |
| Gujarat | Amar Enterprise |
| Gujarat | Ankur Distributors |
| Gujarat | Amee Enterprise |
| Gujarat | Bhakti Corporation |
| Gujarat | B M Pharma |
| Gujarat | Bela Drug Centre |
| Gujarat | Chandramauli Agencies |
| Gujarat | Dhruvi Pharma Pvt. Ltd. |
| Gujarat | Deep Distributors |
| Gujarat | Desai Medical Store |
| Gujarat | Arihant Fine Pharma Agency |
| Gujarat | Gujarat Medicines |
| Gujarat | Gurukrupa Medical Agency |
| Gujarat | Jay Distributors |
| Gujarat | Joshi Brothers |
| Gujarat | Krishna Medical Agencies |
| Gujarat | K Raj & Co. |
| Gujarat | K.B. Shah & Co. |
| Gujarat | Kotecha Enterprise |
| Gujarat | K. Chimanlal & Co |
| Gujarat | Maharaja Agencies |
| Gujarat | Jasmine Corporation |
| Gujarat | Narmada Medical Agency |
| Gujarat | National Pharma Distributors |
| Gujarat | Parikh Medical Agencies |
| Gujarat | Pharmakem |
| Gujarat | Rushabh Medical Agency |
| Gujarat | Relief Pharma Distributors |
| Gujarat | Royal Distributors |
| Gujarat | Saurashtra Surgical Medical Agency |
| Gujarat | Shree Navdurga Medical Agency |
| Gujarat | Shree Sarswati Medical Agencies |
| Gujarat | Shah & Kothari Brothers |
| Gujarat | Shree Tirupati Enterprise |
| Gujarat | S P Pharma Agency |
| Gujarat | Vaibhav Sales |
| Gujarat | Suraj Enterprise |
| Gujarat | Shreeraj Medical Agency |
| Gujarat | Saibaba Distributors |
| Gujarat | Trust Pharma Distribution |
| Gujarat | Umiya Pharma Dist. |
| Gujarat | Vikram Medical Agencies (Klp) |
| Gujarat | Royal Agency |
| Gujarat | Yera Medical Agency |
| Gujarat | Palak Medical Agency |
| Gujarat | K. R. Hospital Care |
| Gujarat | Santram Medical Agency |
| Gujarat | Sanjivani Medicines |
| Gujarat | Shree Ambica Medical Store |
| Gujarat | Reliable Trade Corporation |
| Gujarat | Shree Jay Ambe Medical Agency |
| Gujarat | Foram Distributor |
| Gujarat | Tapi Drugs House |
| Gujarat | Bhoola Distributors |
| Gujarat | Pharma Distributor |
| Gujarat | Pavan Distributors |
| Gujarat | Mahendra Medicines |
| Gujarat | Reliance Medicaps |
| Gujarat | O.B. Enterprise |
| Gujarat | Atc Pharma Pvt. Ltd. |
| Gujarat | Mjt Pharma |
| Gujarat | Shreejee Distributor |
| Gujarat | Yagna Medical Science |
| Gujarat | Surbhi Medical Agency |
| Gujarat | Relief Drug Agency Bhuj |
| Gujarat | Sanjivani Medicines Pvt. Ltd. |
| Gujarat | O.B.Enterprise |
Haryana
| | |
| --- | --- |
| State | Distributor Name |
| Haryana | Aggarwal Medicose |
| Haryana | Central Medical Agencies |
| Haryana | Gandhi Medical Hall |
| Haryana | Gyandeep Enterprises |
| Haryana | Lovely Medical Agency |
| Haryana | Radha Kishan Pharmaceuticals |
| Haryana | Sanjeevani Enterprises |
| Haryana | Novacare Healthcare Solutions P.Ltd |
| Haryana | Sanjeevani Enterprises (West) |
| Haryana | Indian Pharmaceuticals Distributors |
| Haryana | Akshar Pharmaceuticals (Hsr) |
| Haryana | Akshar Pharmaceuticals (Ynr) |
| Haryana | Akshar Pharmaceuticals (Pnp) |
| Haryana | Akshar Pharmaceuticals (Pkl) |
Jammu and Kashmir
| | |
| --- | --- |
| State | Distributor Name |
| Jammu and Kashmir | Apex Sales |
Jharkhand
| | |
| --- | --- |
| State | Distributor Name |
| Jharkhand | G P Sales Ranchi |
| Jharkhand | M/S S.R. Pharma (O) Ranchi |
| Jharkhand | Sudha Enterprises (Ranchi) |
| Jharkhand | Apex Enterprises |
| Jharkhand | Newpatodi Marketing |
Karnataka
| | |
| --- | --- |
| State | Distributor Name |
| Karnataka | Vaman Pharma Pvt Ltd Direct Suppl |
| Karnataka | Vaman Pharma Pvt… Ltd Bijapur |
| Karnataka | Vaman Pharma Pvt… Ltd Hubli |
| Karnataka | Suprabhat Pharmaceuticals |
| Karnataka | Viva Pharma |
| Karnataka | Bangalore Surgicals |
| Karnataka | Medi Zone Pharma |
| Karnataka | Alaric Enterprises(Mng) |
| Karnataka | Srinivasa Medisales Pvt Ltd (Apollo |
| Karnataka | Medihauxe Healthcare Pvt Ltd Appol |
| Karnataka | Dhanvanthri Speciality Phrama Pvt L |
| Karnataka | M/S Bharath Medical & General Agenc |
| Karnataka | Dhanvanthri Speciality Pharma |
| Karnataka | Bharath Medical And General Agencie |
| Karnataka | Mythri Pharmaceuticals |
| Karnataka | Vardhman Health Specialities |
| Karnataka | Medihauxe Healthcare Private Limite |
| Karnataka | Medihauxe Healthcare, Apollo Bangal |
Kerala
| | |
| --- | --- |
| State | Distributor Name |
| Kerala | Avighna Associates Trivandrum |
| Kerala | Avighna Associates Mavelikkara |
| Kerala | Avighna Associates Ernakulam |
| Kerala | Avighna Associates Canannore |
| Kerala | Avighna Associates Calicut |
| Kerala | Kurialacheril Pharmaceuticals |
| Kerala | Santhosh Medicals |
| Kerala | Biorex Pharma Distributors |
| Kerala | Alfa Agencies |
| Kerala | Sri Enterprises |
| Kerala | St.Antony'S Medical Distributors |
| Kerala | Ideal Pharma Associates |
| Kerala | Rubicon Pharmaceuticals |
| Kerala | Amrita Enterprises Pvt. Ltd |
| Kerala | Global Agencies |
Madhya Pradesh
| | |
| --- | --- |
| State | Distributor Name |
| Madhya Pradesh | Duggad Medical Agencies(Ujn) |
| Madhya Pradesh | Dhruvi Pharma Pvt Ltd (Ind) |
| Madhya Pradesh | Gopi Medical Stores(Ind) |
| Madhya Pradesh | Goud Pharma Dhar |
| Madhya Pradesh | Jain Medical Agencies(Mnd) |
| Madhya Pradesh | Kavita Medical Stores(Dws) |
| Madhya Pradesh | Kamal Agencies Bhopal |
| Madhya Pradesh | Medical And General Traders(Jabalpu |
| Madhya Pradesh | Pathak Brothers & Company(Bpl) |
| Madhya Pradesh | Porwal Medical(Nem) |
| Madhya Pradesh | Raj Medical Agencies (Gwl) |
| Madhya Pradesh | Shree Porwal Medical Agencies (Rtm) |
| Madhya Pradesh | Sobeg Singh Sahni & Sons(Betul) |
| Madhya Pradesh | Singhal Medicals(Sag) |
| Madhya Pradesh | Zee Pharma(Ujn) |
| Madhya Pradesh | Disha Pharma |
| Madhya Pradesh | Viraj Pharma |
| Madhya Pradesh | Shri Anand Agency |
| Madhya Pradesh | P P Enterprises |
| Madhya Pradesh | Novacare Healthcare Solutions Pvt. |
| Madhya Pradesh | Sdh Specialty Drug House |
| Madhya Pradesh | P.P.Enterprises |
| Madhya Pradesh | Protection Healthcare, Indore |
Maharashtra
| | |
| --- | --- |
| State | Distributor Name |
| Maharashtra | A.N. Pharma |
| Maharashtra | Ator Healthcare Pvt. Ltd. |
| Maharashtra | Aakanksha Logistics Private Ltd |
| Maharashtra | Ajay Agencies |
| Maharashtra | Anand Agencies (Chq) |
| Maharashtra | Anil Medical Stores |
| Maharashtra | Apte Agencies, (Chq) |
| Maharashtra | Apex Pharma |
| Maharashtra | Bharat Distributors(Chq) |
| Maharashtra | Bhagirath Distributors ( Aurangabad |
| Maharashtra | Bora Agencies (Chq) |
| Maharashtra | Bhagirath Agency(Chq) |
| Maharashtra | Brahmhgiri Enterprises (Chq) |
| Maharashtra | Bharat Agencies (Latur)(Chq) |
| Maharashtra | Baldawa Enterprises (Chq) |
| Maharashtra | Bafna Medico |
| Maharashtra | Balaji Agencies |
| Maharashtra | C.T.Distributors |
| Maharashtra | Chandan Pharmaceuttical (Pune) |
| Maharashtra | Chanda Agencies |
| Maharashtra | M/S Choudhary & Co |
| Maharashtra | Doshi Abhay Kumar Chaganalal |
| Maharashtra | Dwaraka Distributors (Chq) |
| Maharashtra | Dhanwantari Medical Agencies |
| Maharashtra | Dagdiya Distrubutors |
| Maharashtra | Deepali Drug Distributors |
| Maharashtra | Ganesh Medical Distributors(Chq) |
| Maharashtra | Great India Pharmaceuticals |
| Maharashtra | Geeta Medical Agencies |
| Maharashtra | M/S Gajanan Enterprises |
| Maharashtra | Goyal Agencies |
| Maharashtra | H V Shah |
| Maharashtra | Janata Medical Stores |
| Maharashtra | J.Jaswantlal & Brothers |
| Maharashtra | Jain Distributors (Wai)(Chq) |
| Maharashtra | Kamal Distributors Pvt Ltd |
| Maharashtra | Kotalwar Agencies |
| Maharashtra | Kundan Agency |
| Maharashtra | Karwa Pharmaceuticals (Chq) |
| Maharashtra | Kothari Agencies |
| Maharashtra | Kannu Brothers |
| Maharashtra | K. K. Pharma |
| Maharashtra | Laxmi Enterprises |
| Maharashtra | Mahesh Pharmacy |
| Maharashtra | Manish Agencies |
| Maharashtra | Shree Manjushree Pharma(Chq) |
| Maharashtra | M/S N B Vora & Sons |
| Maharashtra | Metro Medical Agencies |
| Maharashtra | Mahadev Agencies (Nasik) |
| Maharashtra | Mandar Distributors |
| Maharashtra | Mahavir Agencies |
| Maharashtra | Meher Distributors Pvt.Ltd. (Bycull |
| Maharashtra | Meher Distributors Pvt Ltd C H |
| Maharashtra | Meher Distributors Pvt Ltd ( Mw-Nh |
| Maharashtra | Meher Distributors Pvt.Ltd. ( Tc-Nh |
| Maharashtra | Nishant Sales & Services (Pcp) |
| Maharashtra | Neeta Agencies |
| Maharashtra | Nayak Agencies |
| Maharashtra | Trilok Enterprises |
| Maharashtra | S. Parikh Pharma |
| Maharashtra | Prasanna Medical And General Stores |
| Maharashtra | Pioneer Distributors |
| Maharashtra | Pratap Medical Stores |
| Maharashtra | Poonam Enterprises (Chq) |
| Maharashtra | Punit Medical Stores |
| Maharashtra | Prabhat Medical Stores |
| Maharashtra | Prakash Medical Centre |
| Maharashtra | Laxmi Medical (Pune) |
| Maharashtra | Rajendra Distributors |
| Maharashtra | Raja Medical Stores |
| Maharashtra | Ram Distributors |
| Maharashtra | M/S Rudraksha Pharma |
| Maharashtra | Rajmane Medical Stores |
| Maharashtra | Shree Agencies |
| Maharashtra | Sweta Distributors Pvt Ltd. |
| Maharashtra | Sham Distributors |
| Maharashtra | Sheetal Pharma (Chq) |
| Maharashtra | Satara Distributors (Chq) |
| Maharashtra | Shah Brothers (Chq) |
| Maharashtra | Sahyadri Distributor(Chq) |
| Maharashtra | S.R.Medicals |
| Maharashtra | Shree Chaitanya Agencies(Chq) |
| Maharashtra | Sanjay Pharma |
| Maharashtra | Sanjay Distributors |
| Maharashtra | Shree Sai Medical Agencies |
| Maharashtra | Suraj Agencies |
| Maharashtra | Saraswati Medical And Gen Stores, |
| Maharashtra | Sobti Brothers |
| Maharashtra | Shreeji Sales Corporation |
| Maharashtra | Shree Manolaxmi Agencies |
| Maharashtra | Sanjivan Medical Agencies |
| Maharashtra | Shri Sainath Medicals |
| Maharashtra | Shri Swami Samarth Agencies |
| Maharashtra | Sanjivani Agency (Ahmednagar) |
| Maharashtra | Shreeji Distributors Pharma Pvt |
| Maharashtra | Tapadia Distributors (Pune) |
| Maharashtra | Tapadia Distributors |
| Maharashtra | Trimurti Sales |
| Maharashtra | Tirupati Distributors |
| Maharashtra | Unique Corporation |
| Maharashtra | Vijay Pharma |
| Maharashtra | Venkatesh Enterprises(Chq) |
| Maharashtra | Vivek Medical Stores(Chq) |
| Maharashtra | D Vijay Pharma Pvt. Ltd(Chq) |
| Maharashtra | D Vijay Pharma Ltd (Nasik Road) |
| Maharashtra | Vasantlal & Bros |
| Maharashtra | Welcome Distributors |
| Maharashtra | Wattamwar Med & Gen Stores (Chq) |
| Maharashtra | Huma Pharma& Surgicals(Chq) |
| Maharashtra | Vipul Pharma |
| Maharashtra | Warad Distributors |
| Maharashtra | Mahesh Agencies |
| Maharashtra | Suganchand Medical Store Agncy Dep |
| Maharashtra | Rohit Enterprises |
| Maharashtra | Sukhkarta Distributors |
| Maharashtra | M M Pharma |
| Maharashtra | Ms Gandhi Medico |
| Maharashtra | Raj Medicos |
| Maharashtra | Raja Enterprises |
| Maharashtra | Anil Agencies |
| Maharashtra | Sunny Pharma |
| Maharashtra | M/S Sainath Agencies |
| Maharashtra | Ms Venkatesh Medicals (Beed) |
| Maharashtra | M/S Tirupati Agencies |
| Maharashtra | Mahavir Pharma Distributors |
| Maharashtra | Makvis |
| Maharashtra | Jaiprakash Medical And General |
| Maharashtra | R K Associates |
| Maharashtra | A B Pharma |
| Maharashtra | Janata Agency |
| Maharashtra | Bridge Medisales Pvt. Ltd. |
| Maharashtra | Nancy Enterprises |
| Maharashtra | Kunal Medical Agencies |
| Maharashtra | Shriniwas Agencies |
| Maharashtra | Dipra And Company |
| Maharashtra | Ms Sudhir Agencies |
| Maharashtra | Mangalmurti Agencies |
| Maharashtra | Santosh Medical Stores |
| Maharashtra | Bhartiya Agencies |
| Maharashtra | Sainath Agencies Pharma Pvt Ltd |
| Maharashtra | Milton Lifecare Pvt Ltd |
| Maharashtra | Rohit Medico |
| Maharashtra | Nikita Agencies |
| Maharashtra | Laxmi Agencies |
| Maharashtra | Sai Krishna Lifesciences |
| Maharashtra | Vardhaman Distributors |
| Maharashtra | Itwari Medical Stores |
| Maharashtra | Sangram Enterprises |
| Maharashtra | Hospicare Agencies |
| Maharashtra | S Parikh Pharma |
| Maharashtra | Katruwar Distributors |
| Maharashtra | Meher Distributors Pvt. Ltd Ap Pune |
| Maharashtra | Skites Pharma Pvt. Ltd |
| Maharashtra | Ishwar Agencies |
| Maharashtra | Palod Distributors |
| Maharashtra | Hindustan Agencies |
| Maharashtra | Vikas Medical Stores |
| Maharashtra | Novacare Healthcare Soln Pvt.Ltd (M |
| Maharashtra | Novacare Healthcare Soln Pvt.Ltd (T |
| Maharashtra | Novacare Healthcare Soln Pvt.Ltd (N |
| Maharashtra | Sushil Pharma Llp |
| Maharashtra | M/S.Kacholiya Medical Agencies |
| Maharashtra | Shree Sai Enterprises |
| Maharashtra | M/S. Jalaram Agencies |
| Maharashtra | Ambaji Distribution Centre |
| Maharashtra | Arihant Chemist Llp |
| Maharashtra | Shree Balaji Medicals |
| Maharashtra | Pandharpur Drug House |
| Maharashtra | Kundan Distributors Pvt Ltd |
| Maharashtra | Mlc Health Specialities Llp |
| Maharashtra | M/S. Indira Medical Agencies |
| Maharashtra | Kundan Distributors Pvt Ltd (Asu) |
| Maharashtra | Sind Medical Stores (New) |
| Maharashtra | Pranic Healthcare Distributors |
| Maharashtra | Chirag Medilines |
| Maharashtra | M/S. Prasanna Medical & General Sto |
| Maharashtra | Mehak Pharma |
| Maharashtra | Milton Healthcare Llp, Pune |
| Maharashtra | Milton Life Care Pvt Ltd (Trade) |
| Maharashtra | Shree Surya Surgi Pharma Pvt Ltd |
| Maharashtra | Vardhman Health Specialities Pvt. |
Odisha
| | |
| --- | --- |
| State | Distributor Name |
| Orissa | Bansal Enterprisers |
| Orissa | Om Sai Medical Agencies |
| Orissa | Chanduka Agencies |
| Orissa | Adeline Pharma Pvt Ltd Apollo |
Punjab
| | |
| --- | --- |
| State | Distributor Name |
| Punjab | Armaan Pharma Distributors |
| Punjab | Kul Enterprises(Rpr) |
| Punjab | Kul Enterprises(Ldh) |
| Punjab | Kul Enterprises (Ptl) |
| Punjab | Kul Enterprises (Asr) |
| Punjab | Man Singh Bhagwan Singh |
| Punjab | Shankar Medicos |
| Punjab | Swami Medical Hall |
| Punjab | Mittal Medicos |
| Punjab | Punjab Surgical & Medicine Centre |
| Punjab | Sehaj Enterprises |
| Punjab | Kavya Pharma |
| Punjab | Garg Pharmaceuticals |
| Punjab | S M Medical Agencies |
| Punjab | Sanjivani Medicos |
| Punjab | Krishna & Sons |
| Punjab | Kul Enterprises (Chandigarh) |
| Punjab | Avon Medicos |
Rajasthan
| | |
| --- | --- |
| State | Distributor Name |
| Rajasthan | Laxmi Pharma |
| Rajasthan | Modi Distributors |
| Rajasthan | Nainani Medico, |
| Rajasthan | Indian Drug Distributors |
| Rajasthan | Dhruvi Pharma Pvt Ltd. |
| Rajasthan | M K Distributors |
| Rajasthan | Aushadh Distributors |
| Rajasthan | Raruna Pharmaceuticals |
| Rajasthan | Aushadh Distributors (Jodhpur) |
| Rajasthan | Aushadh Distributors (Udaipur) |
| Rajasthan | Royal Pharma |
| Rajasthan | Medimitra Medicals |
| Rajasthan | Basant Medicine Corner |
Tamil Nadu
| | |
| --- | --- |
| State | Distributor Name |
| Tamil Nadu | Medpro Agencies (Madurai) |
| Tamil Nadu | Medpro Agencies Pvt Ltd |
| Tamil Nadu | Nagammai Pharma Distributors |
| Tamil Nadu | Omkar Medical Distributors Pvt Ltd |
| Tamil Nadu | Sivagami Medical |
| Tamil Nadu | Om Shakthi Medi Centre |
| Tamil Nadu | Palepu Pharma Pvt Ltd(Tambaram) |
| Tamil Nadu | R.K.Pharma Distributors |
| Tamil Nadu | Sri Selvaganesh Medicals Agencies |
| Tamil Nadu | Sree Sai Enterprises |
| Tamil Nadu | Medihauxe International Pvt Ltd |
| Tamil Nadu | Mediline Agencies (Coimbatore) |
| Tamil Nadu | Palepu Pharma Pvt.. Ltd.. |
| Tamil Nadu | Selvarathna Agencies |
| Tamil Nadu | Ayyappa Acencies |
| Tamil Nadu | Global Life Care |
| Tamil Nadu | Lifecare Pharma Private Limited |
| Tamil Nadu | Karshin Pharma |
| Tamil Nadu | Chellas Vidankar Pharma Distributor |
| Tamil Nadu | Bio Square Life Sciences |
| Tamil Nadu | Cmc Vellore Association |
| Tamil Nadu | Om Sakthi Medi Centre, Chennai |
| Tamil Nadu | Grs Life Care, Madurai |
| Tamil Nadu | Sri Meenakshi Biotec |
| Tamil Nadu | Grs Life Care |
Telangana
| | |
| --- | --- |
| State | Distributor Name |
| Telangana | Akshaya Medical & Surgical Agencies |
| Telangana | Gaudev & Co |
| Telangana | Pharma Plus |
| Telangana | Vasu Vaccines & Speciality Drugs Pv |
| Telangana | Gaudev & Co(Hosp) |
| Telangana | M/S. Svs Pharma (Fmspl) |
| Telangana | Novacare Healthcare Solutions Pvt.L |
| Telangana | Olive Hospitals Private Limited |
| Telangana | Apollo Hospitals Enterprise Ltd |
| Telangana | Mallareddy Narayana Multispeciality |
| Telangana | Diansucare Pharmacy A Unit Of Dians |
| Telangana | Hyderabad Institute Of Oncology Pvt |
| Telangana | Sri Sri Holistic Hospital A Unit Of |
| Telangana | Medihauxe Pharma Pvt. Ltd |
| Telangana | Central Pharmacy (Kims Hospital |
| Telangana | Regson Health Care |
| Telangana | Satya Distributors |
| Telangana | Gaudev & Co, Hyderabad |
Uttar Pradesh
| | |
| --- | --- |
| State | Distributor Name |
| Uttar Pradesh | D.N.Associates |
| Uttar Pradesh | Mediways Vaccine Company (Loc) |
| Uttar Pradesh | Shakun Sales Pvt. Ltd.(Trade) |
| Uttar Pradesh | Shanti Health Care Agency |
| Uttar Pradesh | Talati Bros |
| Uttar Pradesh | S S Traders |
| Uttar Pradesh | Shree Hari Enterprises |
| Uttar Pradesh | Navaanya Healthcare (Asu Gzb) |
| Uttar Pradesh | Arnova Healthcare (Lkn) |
| Uttar Pradesh | Naval Medicals |
| Uttar Pradesh | Albino Lifesciences Pvt.Ltd. Luckno |
Uttaranchal
| | |
| --- | --- |
| State | Distributor Name |
| Uttaranchal | Ruchi Medical Pvt. Ltd |
| Uttaranchal | Vishal Medico Agencies (Ce) |
West Bengal
| | |
| --- | --- |
| State | Distributor Name |
| West Bengal | Adeline Pharma Private Limited |
| West Bengal | Adeline Pharma Pvt. Ltd (Apollo) |
| West Bengal | Friends Speciality Medicine Pvt. Lt |
Covid-19 Remdesivir Medicine list of distributor. [Pdf] Download click here