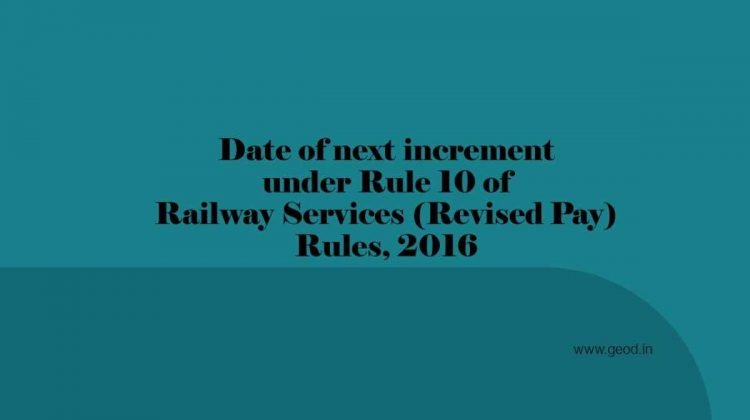 Date of next increment under Rule 10 of Railway Services (Revised Pay) Rules, 2016
NFIR
National Federation of Indian Railwaymen
3. CHELMSFORD ROAD, NEW DELHI – 110 055
Affiliated to :
Indian National Trade Union Congress (INTUC)
International Transport Workers' FederatIon (ITF)
No.I/2/2021
Dated: 11/01/2021
The Secretary (E),
Railway Board,
New Delhi
Dear Sir,
Sub: Date of next increment under Rule 10 of Railway Services (Revised Pay) Rules, 2016-reg.
Ref: Railway Board's letter No.PC-V11/2017/R-1/7 dated 18/12/2019 (RBE No.212/2019).
Kind attention of Railway Board is invited to the instructions issued vide RBE No.212/2019 dated 18/12/2019 clarifying following issues:-
1. whether after promotion on 1st July and fixation of pay with two increments, the date of next increment will be 1st January or 1st July.
2. accrual of next increment in case of regular promotion/financial upgradation of an employee on any date other than the date of annual increment and option for fixation of pay exercised under FR 22(I) (a) (1) based on the O.M. dated 28/11/2019 issued by the Ministry of Finance/Department of Expenditure, fixing the period of exercising option as 'one month' from the date of issuance of Board's instructions, giving opportunity to those employees who have been granted promotions/financial up gradations on or after 01/01/2016 to exercise/re-exercise option for fixation of pay.
Reports have been received by the Federation reveal that these instructions on many Zones/Divisions were circulated among different units belatedly and there was no adequate publicity thereby the employees at grass root level could not avail the provision to exercise/re-exercise option for pay re-fixation. The Covid-19 pandemic also contributed for non-circulation of RBE No.212/2019 for long time at field level and at several depots/stations, the instructions have not been displayed on Notice Boards.
When the staff approached the authorities to permit them to exercise option, the officers expressed inability to accept the option and process the cases on the ground that the time limit expired. Federation desires the Railway Board to appreciate that the option opportunity gives financial benefit to those employees promoted in the form of annual increment on completion fo six months period from the date of pay fixation and is also advantageous for the retiring employees. It would therefore be necessary for extending the validity of option period at least upto 30th April 2021, facilitating the employees to exercise option.
NFIR, therefore, requests the Railway Board to kindly see that suitable instructions are issued to the Zonal Railway etc., for accepting the re-options from Staff who have been regularly promoted or granted financial upgradation on or after 01/01/2016 under Rule 10 of RSRP (Rules), 2016. A copy of the instructions issued may be endorsed to the Federation.
Yours faithfully
(Dr.M.Raghayaiali)
General Secretary
Source: NFIR