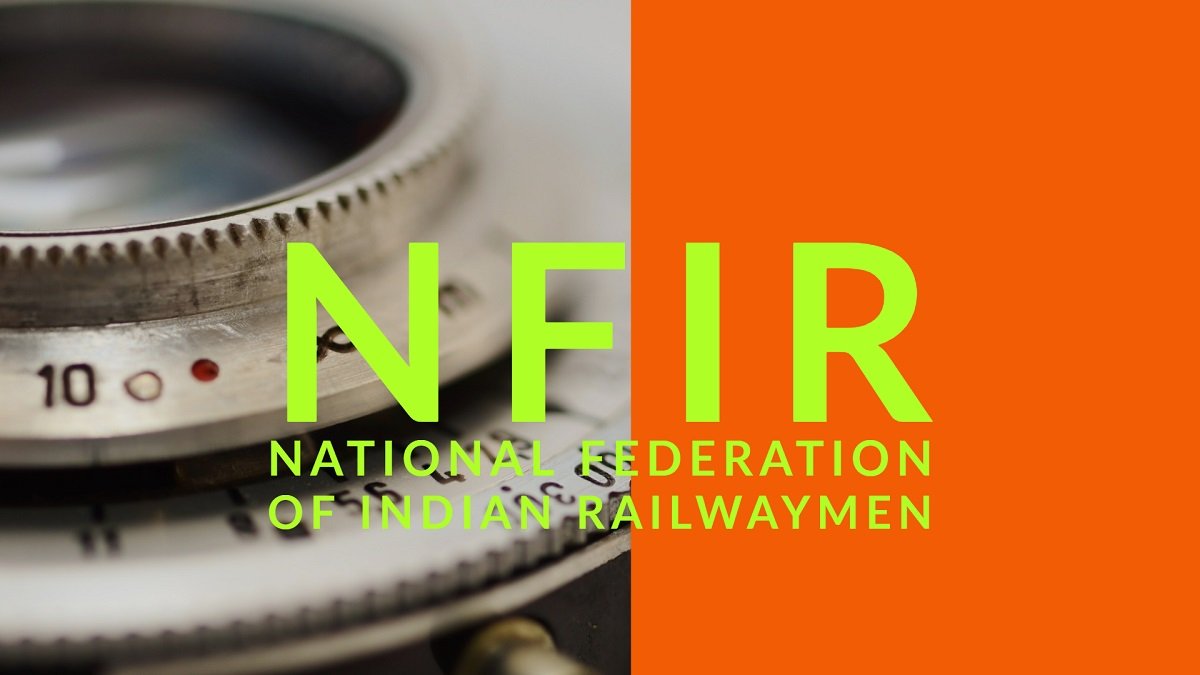 NFIR Letter to Railway board about Upgradation of pay structure of Senior Supervisors
NFIR
National Federation of Indian Railwaymen
3, CHELMSFORD ROAD, NEW DELHI – 110 055
Affiliated to :
Indian National Trade Union Congress (INTUC)
International Transport Workers' Federation (ITF)
No.IV/NFIR/7th CPC (Imp)/2016/R.B./2020
Dated: 27/07/2020
The Chairman,
Railway Board,
New Delhi
Dear Sir,
Sub: Upgradation of pay structure of Senior Supervisors (other than Accounts Department) and revised cadre structure for Graduate/Diploma Engineers of Railways-reg.
Ref: (i) NFIR's PNM Items No. 03/2018 & 10/2018 discussed with the Railway Board.
(ii) NFIR's letters vide No. IV/NFIR/7th CPC (Imp)/2016/R.B./2020 dated 14/01/2020, 24/02/2020 and 25/02/2020 to the CRB.
(iii) Railway Board's reply vide No PC-VII/2015/R-U/9 (Part.) dated 05/05/2020.
Kind attention is invited to the references cited above on the issue relating to upgradation of Sr. Supervisors of all departments on Railways (other than Accounts department). Attention is also invited to NFIR's PNM Agenda Item No.03/2018 & 10/2018 relating to replacement of GP 4600 with GP 4800/Level-8 for all supervisors and improved Pay Matrices to the Graduate/Diploma Engineers of Railways, discussed with the Railway Board and continued to remain pending as on date.
The Railway Board has since replied vide letter No. PC-VII/2015/R-U/9 (Part.) dated 05/05/2020 that as per Rule 4(2) of Transaction of Business Rules, 1961, previous concurrence of Ministry of Finance is required on issues related to the number or grade of posts or to the strength of a service or to the Pay and Allowances of Government servants or to any other conditions to their service having financial implications, therefore in-house decision demanded by the Federation in this regard is not feasible.
In the above context, NFIR desires the Railway Board (CRB) to kindly appreciate that the Railway Ministry had agreed for upgradation of 75% of posts of Sr. Supervisors from GP 4600/Level-7 to GP 4800/Level-8. Proposals were sent accordingly to the Ministry of Finance and thereafter CRB had written to the Secretary, Ministry of Finance on 13/07/2018 requesting to accord clearance. Earlier, Hon'ble MR had also written to the Hon'ble Finance Minister on 28th April, 2017, requesting action for communicating clearance. Even after lapse of 31/2 years, there has been no positive result, while the Sr. Supervisors are greatly disappointed and frustrated over lack of career growth.
For the purpose of sorting out the pending issue, NFIR had suggested vide its letter dated 25/02/2020 to the CRB that the Railway Ministry may decide in house as was done in the past, in the case of upgradation of Track Maintainers (in the year 2012) and Assistant Loco Pilots (in the year 2010). NFIR feels sorry to mention that instead of solving the issue, the Railway Board has quoted Transaction of Business Rules, 1961 in its reply dated 05/05/2020 as the said reply will neither convince the Federation nor the Sr. Supervisors of Railways.
Vide Annexure 1 to Railway Board's letter No.PC-VII/2018/Misc/7 dated 11-10-2019 sent to GS/NFIR (on PNM Items No.03/2018 and 10/2018), the Railway Board had indicated that the issue of ensuring career progression and addressing the stagnation in the cadre of Graduate Engineers/Diploma Engineers of Railways was under consideration/examination in Ministry of Railways in holistic way. During discussions, the Member Staff had also stated that the career progression of Engineers (Graduate/Diploma) was being processed with revised structure upto the level of GP 5400/Level-09 of the Pay Matrix. It may kindly be appreciated that this subject is pending since the last over two years without any positive result. The Engineers of Railways (Graduate/Diploma) are the frustrated lot due to lack of promotion opportunities to higher pay levels.
NFIR, therefore, requests the CRB to kindly take the issue the issue very seriously for rendering justice to the Sr.Supervisors in general and Graduate/Diploma Engineers in particular. NFIR also requests the CRB to kindly peruse, then CRB's D.O.letter No.PC-VII/2015/R-U/9 dated 13-07-2018 and take personal initiative to get the proposals approved at appropriate level.
A reply, conveying action taken on this communication is solicited.
Yours faithfully
(Dr.M.Raghavaiah)
General Secretary
Source: NFIR