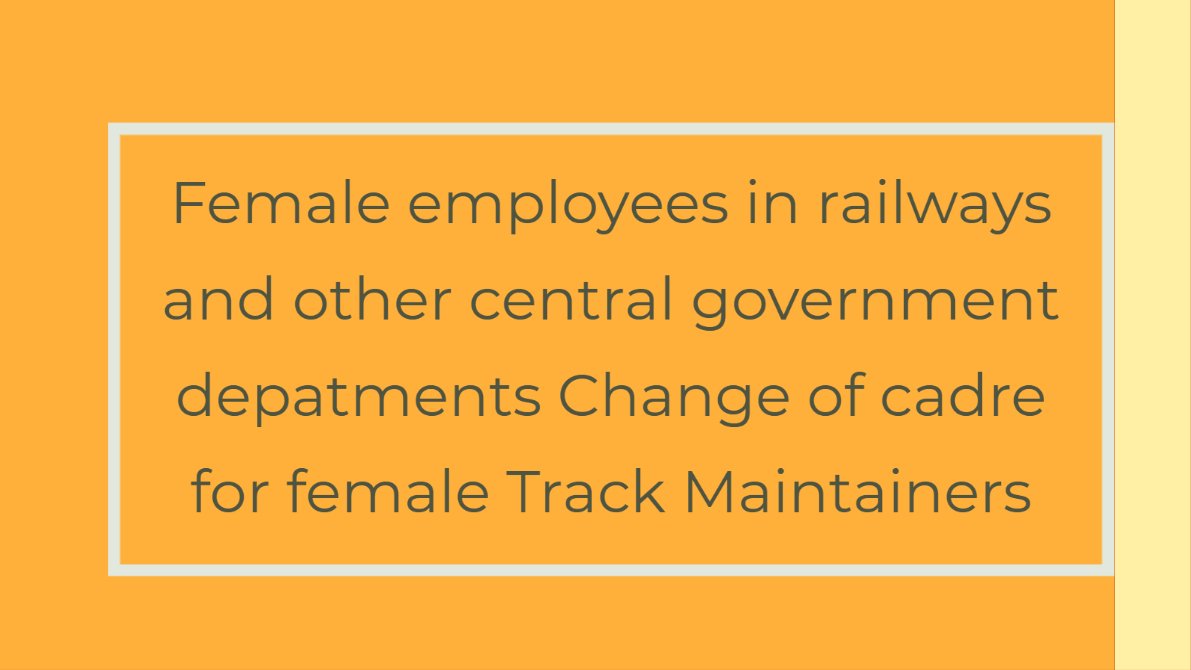 Female employees in railways and other central government departments Change of cadre for female Track Maintainers
NFIR
National Federation of Indian Railwaymen
3, CHELMSFORD ROAD, NEW DELHI -110 055
Affiliated to :
Indian National Trade Union Congress (INTUC)
International Transport Workers' Federation (ITF)
No.II/1/2019
Dated: 12/03/2020
The Member Engineering,
Railway Board,
New Delhi
The Member Staff,
Railway Board,
New Delhi
Dear Sir,
Sub: Induction of Female employees in Railways and other Central Government departments — Change of cadre for female Track Maintainers-reg.
Ref: (i) NFIR's PNM Item No. 23/2015.
(ii) NFIR's letter No.II/1/2019 dated 29/01/2019 addressed to CRB.
Pursuant to NFIR's PNM Item No. 23/2015, the Railway Board vide Action Taken Statement furnished to the Federation during the meeting on 25th/26th April, 2019 conveyed that the Committee constituted for the purpose is yet to submit its report and further action shall be taken based on the recommendations of the Committee. Federation however expressed its anguish over the abnormal delay in mitigating the hardships faced by female Track Maintainers and urged the Railway Board to expedite the matter and to make available a copy of the report of the Committee. Federation feels disappointed to note that though a period of over ten months has passed, neither copy of the report of the Committee has been made available nor progress made into the case has been conveyed to NFIR.
Federation desires to reiterate that in the absence of clear cut instructions from Railway Board, the female Track Maintainers have been facing difficulties as their requests for transfer to other Departments are not being considered on priority.
NFIR, therefore, once again urges upon the Railway Board (ME & MS) to kindly intervene and see that the copy of the report of the Committee is made available to the Federation. It is specially urged that the female Track Maintainers of all grades be allowed transfer to other cadres/departments on priority.
Yours faithfully,
(Dr.M.Raghavaiah)
General Secretary
NFIR Letter 2020 download